Next live!!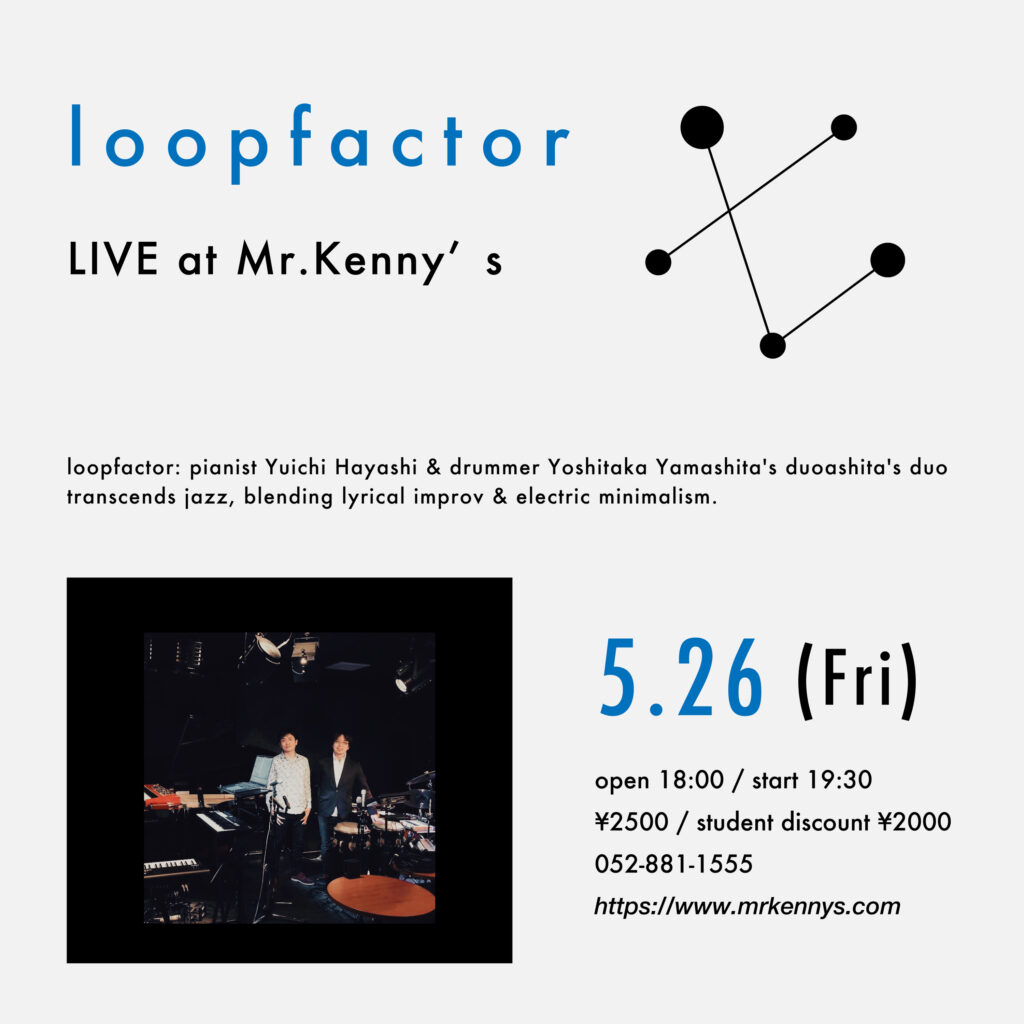 5/26 Fri
live at Mr.Kenny's
loopfactor
Yuichi Hayashi – Keyboards, Electronics
Yoshitaka Yamashita – Drums, Electronics
多彩なバックグラウンド持つピアニスト林祐市とドラマー山下佳孝によるデュオプロジェクト「loopfactor」。
彼らは10年以上に渡りジャズトリオTRISPACEとして活動を共にしてきたが、現在、新しい音を開拓するべくloopfactorとしてして活動している。
e.s.t.、Bugge Wesseltoft、Mehlianaなどジャズの枠に捉われないアーティストからインスピレーションを受け、叙情的な即興演奏とエレクトリックミニマルミュージックのエッセンスをloopfactor独自の解釈で融合させている。そのユニークなサウンドは、音楽への深い理解、多様な影響、そして独自の技術の限界を押し広げるための揺るぎない探求の証だ。
ジャズとエレクトロニカの両方のファンを魅了すること間違いなしの、loopfactorの魅惑的なミュージックジャーニーをお見逃しなく。
現代音楽の境界を再定義する彼らの冒険に参加し、新時代の幕開けを目の当たりにしよう。
Introducing loopfactor, a duo project by pianist Yuichi Hayashi and drummer Yoshitaka Yamashita, both with diverse backgrounds. They have been working together for over 10 years as the jazz trio TRISPACE and are now exploring new sounds as loopfactor.
Inspired by artists like e.s.t., Bugge Wesseltoft, and Mehliana, who transcend the boundaries of jazz, loopfactor uniquely fuses lyrical improvisation and the essence of electric minimal music. Their distinct sound is a testament to their deep understanding of music, diverse influences, and unwavering pursuit of expanding their own technical limits.
Don't miss loopfactor's captivating musical journey, sure to enchant both jazz and electronica fans. Join them as they redefine contemporary music's boundaries and witness the dawn of a new era.
Electronic #jazz #Keyboards #piano #Drums #Duo #korg #korgminilogue #nord #nordstage #yamaha #yamahacp88 #electronicmusic #electric #electricmusic #electronica #synthesizer #analogsynthesizer #abelton #abeltonlive #spdsx #analogsynthesizer #macbook
5/26 loopfactor live at Mr.Kennys